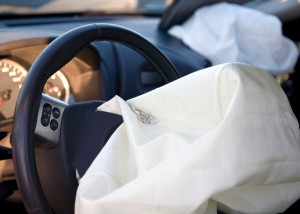 Toyota and Honda have been the center of recent controversies surrounding faulty air bags, with hundreds of thousands of vehicles recalled.  Now, German auto manufacturer Volkswagen AG has joined the list of automakers engaging in an air bag related recall.  The company recently announced that it is recalling 420,000 vehicles in the United States and another 41,300 in Canada because of potential air bag problems.
The recall covers three Volkswagen models: the Golf, Jetta, and Passat. The recall covers models produced from 2010 through 2014.  So far, no accidents or injuries have been caused by the potential defect, according to Volkswagen.
Although the VW recall is related to a problem with the air bags, officials say that the problem in the Volkswagen vehicles is not the same problem that has plagued Toyota and Honda vehicles.  In the Volkswagen vehicles, the problem is caused by a spring in the steering wheel assembly that may become twisted, severing the connection between the front air bags and the electrical supply.  If this happens, the air bags might not work in a crash, exposing the occupants of the front seats to a greater risk of serious injury or death.
Volkswagen stated it was currently working on a solution to the problem.  It also warned drivers that if the connection is severed, the vehicle should show a warning light indicating the air bags are not working properly.
Texas car accident lawyers follow recall news carefully, because recalls frequently address hidden defects that a driver won't know about until it is too late to prevent serious injuries.  If you've been injured by a defect in a vehicle, contact an attorney today to learn more about your options. The experienced auto accident attorneys at Crowe Arnold & Majors, LLP can be reached at (214) 231-0555.