Get Legal Help After a Big Rig Crash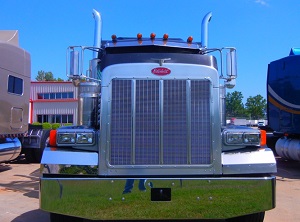 Commercial drivers carry tons of materials, equipment, and products on our nation's roadways. Most of the time, they share the roads safely with passenger vehicles. But accidents happen. And when those accidents involve a large commercial truck and a relatively small personal vehicle, the driver and passengers of the vehicle often bear the brunt of the impact and suffer devastating injuries.
When it comes to truck accidents, time is of the essence. There are a number of people who will try to suppress or erase evidence that could be used in a personal injury case. If you or a loved one has been injured in a truck crash, the sooner you contact Crowe Arnold & Majors, LLP , the sooner we can begin our investigation. Call (214) 231-0555 to set up your free consultation.
You Can't Wait to Call a Lawyer After a Truck Accident
Even the delay of one day can make a difference after a tractor-trailer crash. In that time, one of the following parties can harm your case:
The trucking company's "rapid response team": Usually, within 24 hours, the at-fault company will have deployed a team of investigators, insurance agents, and other representatives to begin their own research. This gives them a sizeable leg-up when it comes to defending the incident. Under extreme circumstances, these company-men have been known to tamper with the scene itself, creating a false impression of what really occurred.
Emergency crews & other motorists: Whether by deliberate or indirect action, the accident scene can be drastically altered by those who are trying to help. By moving even one piece of the collision, they may be painting an incorrect picture of the accident scene.
Mother Nature: Depending on the environmental conditions during the time of your wreck, clear indicators of what occurred and who may be responsible can be washed away by the weather. Even the most thorough police investigation may miss clues that could otherwise be spotted by our team if we get there quickly.
Our primary goals are developing a cohesive understanding of how the accident occurred and building an airtight case against the at-fault party. From the moment you contact our office, we will employ every resource and specialist at our disposal to collect evidence. You can rest assured that, so long as we have enough time, we will find the truth and bring it to light.
Causes of Truck Accidents
Truck accidents can happen in any number of ways – jackknife accidents, rollovers, runaway trailers, and underride situations, to name a few. Causes can include:
Driver error. Truckers cause about 88% of truck accidents. This means those drivers are ten times more likely to be the cause of an accident compared to outside factors like weather and poor vehicle conditions. Because truck drivers are on the road for extensive periods, the most common reason they cause accidents is fatigue. Exhausted drivers lack a keen sense of awareness and can fall asleep behind the wheel, losing control and driving off the road or into oncoming traffic. Other factors, such as speeding, distractions, and the use of over-the-counter drugs, also play a role in these accidents.
Intoxicated or impaired drivers are a serious concern. Drugs and alcohol slow a driver's response time, judgment, and overall perceptions and awareness. Driving under the influence of drugs or alcohol makes a driver unsafe.
Equipment problems. Faulty truck parts also play a key role in truck accidents. Just like cars or planes, trucks encounter failures in pieces of equipment from time to time that can affect the driver's control of the vehicle. Most of the time, these accidents can be prevented by a thorough inspection and frequent maintenance of all equipment. Some examples of equipment failures include:
Tire blowouts
Improper trailer attachment
Transmission failure
Inadequate steering ability
Dysfunctional brakes
Depending on the nature of the accident and the facts and circumstances, liability may rest on the shoulders of any one of the possible responsible parties.
Who Is At Fault for a Truck Wreck in Dallas?
It is often more difficult to decipher the cause of a trucking accident than a typical car accident. Numerous factors come into play, tracing back to the driver, the trucking company, or even the owner of the cargo. We make sure to evaluate every piece of information, at every level, in our effort to uncover any negligent acts. Those at fault include:
Trucking companies. Like so many industries today, the shipping and hauling business is a competitive one, with profits being the driving force behind most decisions. When it comes to a company's bottom line, it is all about keeping costs low and returns high. Many trucking entities have been known to skimp on training, maintenance, guidelines, and appropriate deadlines in order to keep the books in the black.
Drivers. Like the company they drive for, truck drivers face serious competition when it comes to job security. Often working as independent contractors, it is up to a driver to make sure his business is running smoothly, efficiently, and profitably. Failure to do so can mean loss of employment. However, in order to stay one step ahead of fellow drivers, some shippers will resort to staying up too long, speeding, or taking unnecessary risks.
Cargo companies. In some instances, trouble originates at the port or warehouse where the shipment was picked up. Cargo companies are sometimes guilty of overloading or improperly handling containers, all in the name of speed and profit.
What Truck Laws and Regulations Apply?
The U.S. Department of Transportation (DOT) and the Federal Motor Carrier Safety Administration (FMCSA) regulate truck driving by setting federal guidelines that companies and drivers must follow. The regulations prescribe the standards that commercial drivers are required to meet, governing:
Hours of service: The time limits of driving shifts and the time between driving jobs. Commercial drivers are required to follow these rules to prevent fatigued or sleep-deprived driving.
Drug and alcohol testing: A serious issue for commercial drivers is driving under the influence. To manage truck drivers more carefully, there are mandated drug and alcohol testing policies.
Insurance requirements: Commercial vehicle drivers are required to maintain specific insurance limits above those for personal vehicles.
Vehicle maintenance: A set schedule for required maintenance and repairs for commercial vehicles.
Cellphone ban: All commercial drivers are precluded from using cellphones in their trucks without a hands-free option.
A driver's logs and black box data can be used as evidence to identify any failures to obey these regulations as well as evidence of other negligent behavior. When you're involved in a trucking accident, this vital data can prove your legal case – a trucker who ignored federal regulations is certainly liable for damages that he caused!
Frequently Asked Questions
Q: If I was injured in a truck accident, what should I do first?
A: Obviously, the first thing you should do is get help. Call 911 for anyone needing emergency medical attention. If you are in danger, move your vehicle out of the way. Attempt to gather as much information as your physical condition allows. For maximum protection, reach out to an experienced truck accident attorney.
Q: What evidence is needed to prove liability in a truck accident claim?
A: Evidence from the scene of the accident that shows exactly what happened. Photographs, witness statements, and accident reconstruction experts can help show this. In addition, driver logs and truck maintenance records, the driver's experience and driving record, recorded speeds (if any), and information on the weather, traffic conditions, and other relevant facts will be very useful in proving fault.
Q: Do I need an attorney after a truck accident?
A: The trucking company's insurance carrier will try to convince you to settle your case as quickly and inexpensively as possible. An attorney can help you determine whether a settlement offer is fair, or whether you deserve more. While you are recovering from your injuries, you should trust your advocacy to someone objective who understands the law and cares about your plight.
Q: What compensation is available?
A: Depending on the circumstances of your individual case, you may be entitled to recover both economic and noneconomic damages. Economic damages are the monetary costs you incur, such as current and future medical and rehabilitative expenses, lost wages, and lost job opportunities. Noneconomic damages are intangible losses related to human suffering, such as the experience of pain, disfigurement, and emotional trauma.
Q: Does it matter who I hire for a truck accident case?
A: Absolutely. After a truck crash, there are many potentially liable parties. No one can guarantee you a result or a certain amount for your recovery. However, choosing an attorney who understands the facts, has experience dealing with insurance and trucking companies, and knows how to present a strong case is the best choice you can make.
Contact Our Dallas Truck Accident Attorneys Today
For over 25 years, Crowe Arnold & Majors, LLP has helped victims obtain the kind of settlement that can help them move forward. We do so by collecting all the evidence we can find and getting to the bottom of what occurred the moments before and after the collision. Often, we'll find there's more to the accident than one mechanic, or one driver, who was lax in their duties. In most cases, it is a series of unfortunate and entirely preventable issues, beginning at the top of the corporate chain and extending all the way down, which led to the disaster.
Contact us at (214) 231-0555 or toll-free (214) 231-0555 for a free case evaluation.
Additional Information