Legal Representation in Cases of Nursing Home Abuse & Neglect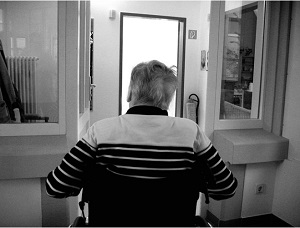 Should you find your elderly loved one under less-than-expected care in a nursing home in the Dallas metro area, it is imperative that you seek legal counsel as soon as possible. The Dallas personal injury lawyers of Crowe Arnold & Majors, LLP have handled many cases of nursing home abuse and neglect in Dallas, so your loved one will benefit from our experience. We will work to get your loved one better care as soon as possible. For a free, comprehensive consultation, call (214) 231-0555.
In Texas, there are tort-reform laws and other regulations along with a strict statute of limitations that prevent many nursing home abuse victims or their estates and loved ones from filing viable personal injury claims. We are experienced in handling the convoluted legal system that surrounds nursing home litigation in Texas. We can help you traverse the obstacles people often encounter during the claims process so your elderly loved one can get the compensation he or she deserves.

Tap Here to Call Our Law Office
When Should You Intervene?
Generally, the people responsible for nursing home residents are their children or other close relatives. If the resident has a guardian other than a family member, it is important that someone with emotional interest in the resident keep an eye out for nursing home neglect or abuse. Unfortunately, some guardians tend to treat allegations of nursing home neglect or abuse with a dismissive attitude. If your elderly loved one is telling you he or she is being abused, it is best to take his claims seriously, even if he has a history of mental illness or things appear to be just fine.

Watch Out for Signs of Nursing Home Abuse/Neglect
Close family involvement in the life of a nursing home resident is a huge factor in the quality of treatment the resident receives. Visit your elderly loved one frequently, and while you're there, look for these signs of nursing home abuse:
Tap Here to Call Our Office Now
Other possible signs include:
Frequent admissions to the emergency room
Significant weight loss
Missing personal items
If nursing home abuse is identified, the family member most closely involved in the life of the nursing home resident should contact a personal injury lawyer immediately. The statute of limitations can quickly expire, leaving your loved one without any legal recourse.
We'll Fight To stop the Abuse & Neglect
Click below for a FREE case review and consultation.
Plus no fees unless we win!
REVIEW MY CASE
Types of Nursing Home Abuse 
There are several different types of nursing home abuse, including: 
Medication errors affect up to 27 percent of all nursing home residents, according to a study in the Journal of the American Geriatrics Society. The most prevalent mistakes include:
Administering an incorrect medication
Administering the wrong dosage
Not giving medications on time
Providing medications that should not be taken together
Administering expired medications
If your loved one suffered injury because of a medication error, a Dallas nursing home abuse lawyer can investigate the facts and determine if legal action is warranted.
Tap Here to Call Our Office Now
Sexual Abuse in Nursing Homes
Sexual abuse in nursing homes, though less common than physical or emotional abuse, is frequently underreported. Long-term care facilities may be exposed to civil liability if owners or administrators:
Failed to screen all employees and conduct thorough background checks for past sex crimes
Failed to provide adequate supervision of residents
Failed to implement trainings on how to prevent sexual molestation and abuse
Failed to provide a safe environment for residents
Failed to monitor visitors who could perpetrate sexual abuse
Failed to respond to reports of sexual assault or abuse among residents
Statistics show that majority of victims are women and suffer from some type of physical or cognitive impairment. Our attorneys have the resources to protect the rights of your loved one and help prevent future abuses from occurring.
Is a nursing home responsible for improper wound care that leads to infection and injury? This is one of the most frequently asked questions fielded by our lawyers. The answer is yes. Nursing homes in North Texas have a legal duty to ensure that residents' wounds are properly cared for so they do not get infected and lead to more serious complications like sepsis. In many cases, topical or systemic antibiotics are necessary to prevent bacterial growth and to facilitate healing. In some cases, untreated bedsores and wounds can cause fatal complications. A Dallas nursing home abuse attorney can outline your legal options if you suspect a relative or loved one suffered from negligent wound care.
Financial exploitation is another kind of nursing home abuse that involves the illegal use of a resident's money, assets or property. Senior residents with dementia or Alzheimer's disease in assisted living facilities are prime targets for financial exploitation. Nursing home staff may take advantage of this vulnerable population to defraud, take over power of attorney, and steal money through other means. Forged signatures, unusual ATM withdrawals, and new changes in legal documents are signs that it's time to consult with a nursing home abuse lawyer Dallas trusts.
Improper Use of Restraints
We all like to believe that a skilled nursing home will provide the care and support that our loved ones need. Unfortunately, many understaffed facilities resort to restraining their charges – either physically or chemically – for the sole purpose of convenience. The only time restraints are legally allowed in assisted living centers is when the safety of the resident or staff is in jeopardy. When belts, straps, or sedative medications are used to punish residents or to make their jobs easier, then a lawsuit may be warranted if injuries result. This type of adult daycare abuse is unacceptable and best handled by a skilled lawyer at Crowe Arnold & Majors, LLP.
Self-neglect is when one disregards their health, safety, and well-being either by choice or because of physical or mental impairments. Indicators of elder self-neglect include soiled clothing, matted hair, body odors, poor personal hygiene, and withdrawn behavior. Self-neglect is considered a type of nursing home abuse in many states, as it is often triggered by mistreatment and caregiver neglect.
If your loved one has suffered because of abuse or abandonment in a nursing home that led to self-neglect, you may be eligible to pursue compensation for their injuries.
Slip-and-Falls in Dallas / DFW Area Nursing Homes
Fall-related injuries are another major health threat for nursing home residents. Although the law requires nursing homes to provide adequate supervision, maintain safe conditions on the premises, and create personalized care plans based on each resident's needs – including fall risks – many facilities in Texas fail in these duties. Slip-and-fall accidents happen in nursing homes for a variety of reasons, including:
Inadequate lighting
Wet floors
Improper bed height and lack of adequate bedrails
Clutter in rooms or hallways
Inadequate or undertrained staff
Poor foot care
Weakness linked to malnutrition and/or dehydration
An experienced personal injury attorney can help you establish liability by conducting an investigation of the facts and circumstances surrounding your loved one's fall.
Can Fall-Related Injuries Be Prevented?
If your elderly loved one is susceptible to fall-related injuries and you're concerned his or her nursing home is not taking the proper measures to prevent an incident, you may protect your loved one by developing a fall prevention plan that includes:
Placement in a physical conditioning or rehabilitation program
Modifications to your loved one's living space to improve mobility and safety
Installation of an alarm system that activates when a resident is in distress and needs assistance
Regular vision checkups
Properly maintained assistive equipment like wheelchairs and walkers
Well-fitting shoes with sufficient tread
Proper medication with lowest risk of undesired side effects
Removal of trip and slip hazards from the living space
While it never hurts to be active when it comes to the safety of your elderly loved one, remember that the nursing home is ultimately responsible for his or her health and they can be held liable if something goes wrong.
Tap Here to Call Our Law Office
Nursing Home Neglect Versus Nursing Home Abuse
Nursing home neglect is similar to abuse, but may be the result of lack of care versus active abuse. Bedsores, for example, may be considered neglect because they occur when staff fails to give proper care. Over-sedation, however, would most likely be considered abuse because staff is actively mistreating the patient. Further examples of neglect:
Lack of interaction and attention can result in psychological harm to the resident.
Urinary tract infections can become rampant when caregivers don't assist residents in visiting the bathroom often enough.
Heatstroke and other temperature-related conditions can also arise from neglect. Many elderly patients have limited mobility, and cannot take steps to regulate their own body temperatures.
Nursing Home Neglect FAQs
Q: Who are the most common perpetrators of elderly abuse?
A: According to surprising statistics provided by the National Center on Elder Abuse, it is estimated that 36% of nursing homes violate elderly abuse laws and 91% lack adequate staff to provide proper care for residents. Clearly, elder abuse is a huge issue in both residential homes and assisted living facilities.
Q: How do I find out whether my elderly loved one's nursing home or assisted living facility is a good one?
A: You may contact your Long-Term Care Ombudsman for information about the nursing home or assisted living facility. You may also try Nursing Home Compare, a federal website that allows you to find Medicare- and Medicaid-certified nursing homes in your area and learn how they rate by various quality measures.
Q: What can I do if I suspect that my elderly loved one is being abused by his/her caretaker in a residential home?
A: You should call and discuss the suspicious situation with Adult Protective Services (APS), a Long-Term Care Ombudsman, or local law enforcement. They will ask you what you saw/heard/observed that indicated abuse and the identity of the suspected perpetrator. They will also inform you of who you can contact for further assistance.
Q: What if my elderly loved one is being abused in a state-operated setting or private assisted living facility?
A: If your elderly loved one is staying in a state-supported living center, state hospital, or community mental health/retardation center, get in touch with APS Facility Investigations. If s/he is staying in a psychiatric hospital or other medical facility, contact Texas Department of State Health Services (DSHS). If a nursing home, assisted living facility, private ICF/MR, or adult day care is involved, reach out to Texas Health and Human Services.
Tap Here to Call Our Law Office
Q: What will happen after I make a report to APS?
A: Upon receiving your report, APS will evaluate the situation and act accordingly. If it's an emergency, APS will immediately forward the report to police or emergency medical staff. If not, your case will be assigned a priority response time based on the level of victim risk and an APS staff will eventually take on your case (if your report meets the APS target population).
The assigned caseworker will contact the victim, assess his/her risk factors, and his/her capacity to understand the situation and to give informed consent for further investigation.
If your elderly loved one expresses his/her consent and allows the investigation to continue, the caseworker will make arrangements to address and resolve problems with your elderly loved one's health, home, and finances. The caseworker may continue to monitor service provision to assure that victim risk is reduced or eliminated.
Texas Nursing Home Abuse Statistics – The Numbers Are Startling
Many of us don't want to think that abuse like this will happen. We think that we've chosen a high-quality facility, and the staff always seems nice. The reality is, however, that an overwhelming number of elderly patients are abused, even in seemingly good conditions.
According to studies conducted by Adult Protective Services (APS) and other credible sources:
Texas has more than 2.5 million residents age 65 or older.
Almost one-half of people over 65 have a disability.
1 out of 3 nursing homes in the United States have been cited for abuse, neglect, and other related infractions.
1 to 2 million Americans over 65 has suffered abuse, neglect, or general mistreatment by their primary caregiver.
Close to half of all people with dementia experience some kind of abuse.
Elders who experienced abuse, even "minor" abuse, had a 300% higher risk of death compared to those who had not been abused.
Unfortunately, the reality may be even worse than these statistics demonstrate. According to the National Committee for the Prevention of Elder Abuse (NCPEA), an estimated 84% of elder abuse incidents are not reported to authorities, denying victims the protection and support they need. Clearly, this is a huge issue that needs to be addressed by the public in order for there to be effective change. Too many elderly individuals slip through the cracks and live out the remainder of their lives in fear and discomfort, which is absolutely unacceptable.
Nursing Home Wrongful Death
If abuse goes on long enough, it can lead to death. Finding out that your elderly loved one has died due to nursing home abuse is the worst-case scenario, and hopefully abuse never reaches that point. If it does, you will want justice.
Depending on the circumstances of your case, you may be entitled to compensation for punitive damages in addition to economic and non-economic damages, such as funeral expenses, pain and suffering, and emotional distress. We will work to prove not only liability but also the full extent of damages so that you are granted an optimal settlement or verdict.
Preserving Your Dallas Nursing Home Case
After you have consulted with a reliable Dallas nursing home abuse lawyer and filed your lawsuit, try to avoid all contact with the nursing home and their insurance agents unless it is permitted by your attorney. They may claim they are truly sorry for your loss and are only interested in your well-being, but you shouldn't fall for their schemes. They only care about one thing: the bottom line. And they will do everything they can to weaken your claim.
With assistance from the experienced legal team at Crowe Arnold & Majors, LLP , you may be able to negotiate an optimal settlement deal before trial. If matters come to a head, our aggressive trial lawyers will fight hard to preserve your right to full and fair compensation in and out of the courtroom. To learn more about our firm and the legal services we provide, contact our office at (214) 231-0555 today.
Texas Nursing Home Negligence Case Results
Confidential Settlement – Nursing home negligence burn / wrongful death case
Confidential Settlement – Nursing home negligence bedsores / wrongful death case
Confidential Settlement – Nursing home negligence fall resulting in subdural hematoma / wrongful death case
Confidential Settlement – Nursing home negligence amputation from bedsores case
Click here to see more case results.