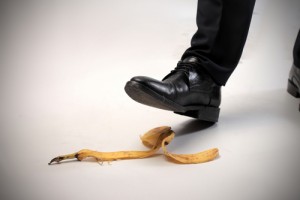 Over one million people go to the emergency room every year because of slip and fall accidents, and most of these people are injured due to a negligent property owner. To help protect you and your loved ones from slip and fall injuries, here are the four common causes of slip and fall accidents:
Wet surfaces: If an area is slippery in a public place, there should be a caution sign alerting you to that. But oftentimes grease, water or other slippery material will be on the floor, and you slip and fall without warning, which results in serious slip and fall injuries.
Uneven flooring: According to the National Floor Safety Institute, 55 percent of all slip and fall accidents are caused by hazardous walking surfaces. Some flooring issues that cause slip and fall accidents include dented vinyl flooring, torn carpeting, cluttered floors or loose floorboards.
Weather conditions: Many slip and fall accidents occur on a property because of ice, rain or snow. Property owners must shovel snow off sidewalks, salt walking paths and plow parking lots if there is inclimate weather. If they don't do so, tragic slip and fall accidents can occur and the property owners are held responsible.
Nursing home neglect: Elderly people are the most common victim of slip and fall accidents. After an elderly person slips and falls, it can lead to life threatening injuries. Slip and fall accidents occur to the elderly often in nursing homes where residents aren't monitored well and experience nursing home neglect.
Slip and fall accidents usually could have been prevented. If you or a loved one were a victim of a slip and fall accident, you deserve justice and compensation for your physical and emotional pain. Contact the Law Offices of Crowe, Arnold & Majors, LLP today and set-up your free, no-obligation consultation with a Dallas premises liability lawyer.