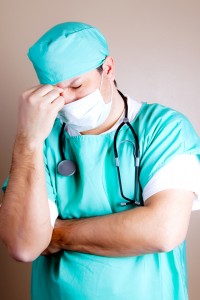 Halloween brings countless traditions with it; carving pumpkins, telling ghost stories, and dressing up in ghoulish attire make it a personal favorite. When constructing this year's costume, the FDA warns that a common visual accent runs the risk of personal injury or even blindness! This isn't a spooky tale. I'm sure you've seen the custom color contacts that make your eyes look more animalistic, undead or cartoon-like; but the FDA warns of the potential dangers of inserting an unregulated 'medical device' into your eye.
The leading cause of injury from the contacts stem from the incorrect fit of the lens. As humans, we all come in a range of completely different shapes and sizes; this holds true for our eyes as well. If your new pair of custom, non-prescription contact lenses are the wrong shape or depth, you run the risk of scratching your cornea. The scratch can happen after just seconds of wearing them. If the injury isn't treated properly, the scratch could get infected. If left undiagnosed, an ocular infection could cause blindness within 24 hours of inception. Because they are unregulated, consumers and the FDA do not know exactly what they are made of. The chemicals in the dyes of the contacts are only known by the manufacturer; they could possibly contain heavy metals, such as mercury and lead, which can be absorbed into the nervous system through the eye. If you absolutely have to get a pair of spooky contacts, it is advised to buy them with a prescription in order to avoid personal injury due to product liability.
Halloween is a fun and scary time of year, keep the levels of fright to safe standards by arming yourself with information.