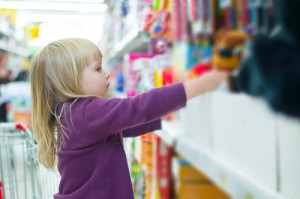 We want to help you protect your children from anything that might cause them harm. One way we do this is providing the Consumer Product Safety Commission's children's products recalls each month. Take a look at these August children's products recalls and to learn more visit the CPSC recalls page:
HALO SleepSacks Wearable Blankets Recalled Due to Choking Hazard
Petals from the floral embellishment on the blankets can detach, posing a choking hazard to infants. There were six reports of the petals detaching from the blankets, including one report of an infant found gagging on a detached petal.
The recalled HALO SleepSack wearable blankets are white cotton with pink-edged ruffles and a pink satin rose on the front, with cut-outs for the baby's arms, a zipper down the center, a sewn bottom and were sold in small and medium sizes. They were sold at Babies R Us and online from December 2011 through July 2013 for about $25.
If your child has this product, contact HALO Innovations for a pre-paid envelope containing instructions to remove and return the flower and order a free replacement product.   
Toysmith Recalls Toy Light-Up Frogs and Ducks Due to Choking Hazard
The metal conductor pin on the bottom of the toys can come out, posing a choking hazard, but no injuries have been reported yet.
This recall includes light-up soft plastic toy frogs and ducks, which light up when the sensors on the bottom touch water.  The frog is green and the ducks can be yellow, pink or clear. They were sold at Cost Plus World Market between July 2012 and December 2012 for around $3.  
If your child has this recalled toy, return it to place of purchase for a full refund.
JP Boden Recalls Children's Sandals Due to Fall Hazard 
The cork sole can detach from the sandal and cause your child to trip and fall, but no injuries have been reported yet.
This recall involves JP Boden boys' and girls' sandals with cork soles sizes 8 through 5. The boys' sandals are brown leather with camouflage, and the girls' sandals are blue, green or pink suede with a suede ruffle. "Mini Boden" and the sandal size are printed on the inside sole of the shoe. These recalled sandals were sold in Boden catalogs and online from January 2013 through June 2013 for between $44 and $48.
If your child has these recalled sandals, contact JP Boden to receive a postage paid label to return the shoes and receive a full refund, but JP Boden is also contacting purchasers of the sandals directly.
If you or your loved one were injured due to a product from a negligent company, you deserve justice and compensation. Contact the experienced Dallas product liability attorneys at Crowe Arnold & Majors, LLP today and set-up your free, no-obligation consultation.