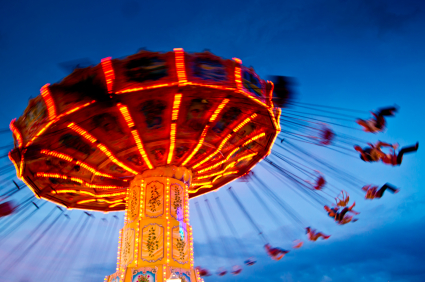 What do you think of when you consider "traditional summertime"? For many in Texas, it's the Texas State Fair that occurs every year as summer wanes.
But after the tragic accident at the Ohio State Fair, can you feel safe putting your family on the rides?
Of course, every time there's an incident at an amusement park or local fair, lots of attention is drawn to it. And Texas is going over its state fair rides with a fine-toothed comb. The truth of the matter? Most rider injuries come from the rider experiencing "normal" ride impacts (whiplash, bumped head). However, sometimes these rides do fail and people can get seriously hurt.
Tips for Staying Safe at the Texas State Fair
Given the sheer size of the crowds, almost anything can happen at the Texas State Fair. Car accidents can happen in the busy parking lots, people can slip and fall in the mud, people can overheat, food can spoil and cause digestive issues, contagious diseases can spread, riders can get hurt if they don't follow instructions, and rides can malfunction.
Here are some preventative measures visitors to the fair can and should take:
Wear sunscreen and stay hydrated. A hat is an excellent idea as well.
Be mindful of how long food stays out in the heat. Food poisoning is never pleasant. When in doubt, pitch it out.
Follow all safety rules for the rides. Make sure seat belts or safety devices are completely latched before the ride begins; keep arms and legs inside the ride; and secure loose items.
Don't cheat height or weight restrictions. If the ride says a certain height, make sure all of your riders meet it. That's a life-saving decision at times.
What If I'm Hurt at the Fair?
As the Ohio State Fair disaster shows, accidents on rides can and do happen with devastating consequences. If something happens to you or a loved one, what are your options? Depending on whether the injury was caused by a defective product, a failure of an employee to do all safety checks, a defect on the premises, or a careless driver, there may be legal avenues to pursue. It is worth contacting Crowe Arnold & Majors, LLP at (214) 231-0555 for a free consultation.