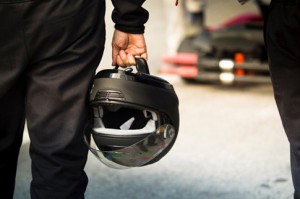 It is essential that motorcycle riders suit up with the following safety gear before they hit the road. It is for their protection- to reduce injuries to their bodies in case of an accident. If you are a motorcycle rider, you already know how important protective wear is to your life on the road. Critical motorcycle safety equipment can save the lives of both the rider and the passenger. Essential protective gear for motorcycle riders starts with the basics like helmets, to more specialized safety equipment like abrasion-resistant riding pants.
The following are four essential pieces of protective gear for motorcycle riders, to save them from serious bodily injury, in case an accident happens.
Motorcycle Helmet
A motorcycle helmet consists of four basic parts that shield and protect the head of a rider in the event of a motorcycle collision. The four basic parts include:
An inner protective lining: it collapses in the event of an impact or shock force to absorb further the shock to the head of a rider.
A carbon fiber or Kevlar hard outer shell to resist and absorb shock.
A helmet chin: it secures the helmet to the head of a rider incase of an impact.
A foam liner: for comfort, and moulds the helmet to the rider's head. It can be removed for cleaning.
In order to ensure you choose a helmet that fits your head correctly, use a tape measure or a piece of string and a ruler to measure the circumference around the largest part of the head- right above the eyebrow. A helmet that fits right should feel snug around your head, but it shouldn't hurt. Keep in mind that the helmet liner stretches about half a size, once worn. Once you've worn a helmet, fasten the chin strap and shake your head from side to side and up and down to test for looseness.
Face Shield
A face shield prevents bugs from invading your mouth, also providing protection against the elements and road debris as you ride. Some helmets come included with a face shield, others need one added. Choose a helmet whose face shield is impact resistant to rocks, should you suffer a collision. Also opt for a face shield that is scratch resistant as scratches can refract light and impair vision. Secure your face shield to your helmet by fastening both sides.
Motorcycle Gloves
Motorcycle gloves protect the hands of a rider from blisters and also keep them safe from road debris, and prevent injury or abrasions in case of a fall or accident. Choose a pair of motorcycle gloves that fit your hands snugly, but don't impair motorcycle operation. You can choose several different pairs – one for fall and one for summer.
Motorcycle Boots
Boots protect the feet and ankles of a rider while he/she rides against flying debris, hot exhaust pipes, etc. Pick a pair made of oil-resistant material, slip free rubber-based composite soles for grip on bike pegs and pavement, and a pair that cover the ankles from flying debris, exhaust pipe burns, bike spills, and crashes.
If you have been injured in a motorcycle accident due to the negligence of someone else, contact the professionals at The Law Offices of W.T. Johnson for a free consultation.