Legal Representation After a Motorcycle Collision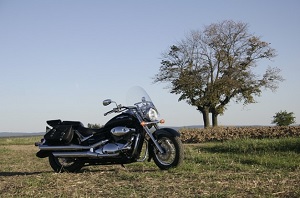 Have you, or someone you love, recently been involved in a motorcycle collision? Was it due to someone else's poor judgment or blatant disregard for your rights as a motorcyclist? Did this accident result in injuries or death? If so, we encourage you to speak with one of the dedicated Dallas motorcycle accident injury attorneys at Crowe Arnold & Majors, LLP. Our team has spent the past 25 years successfully litigating for the victims of motorcycle accidents and their families – and we won't quit until the at-fault party is held accountable. For more information, please call (214) 231-0555 or use the contact form on this page.
Ensuring Your Rights in Texas
Most people want nothing more than to recover quickly and quietly following a motorcycle accident. The idea of retaining a lawyer can seem overwhelming. Crowe Arnold & Majors, LLP understands this and appreciates the difficulties you face. We are firmly committed to providing superior counsel to the victims of motorcycle collisions in the most efficient and effective way possible. Here are just a few examples of how we can work for you:
Representation: Motorcycle accidents tend to end with significantly more damage done to the bike rider and passengers than anyone else. As a result, insurance agents on both sides of the wreck will low-ball settlements to avoid extensive and lengthy payment schedules. This dubious behavior and other confusing techniques serve the interests of the insurance companies – not the victims.
Before speaking to any insurance adjustor, even one representing your own policy, we encourage you to meet with one of the knowledgeable motorcycle attorneys at Crowe Arnold & Majors, LLP. We can help determine the best course of action with your claim and act as a direct line to the insurance agencies in question.
Litigation: More often than not, the aforementioned insurance settlements simply cannot cover the medical costs or suffering of those who have survived a motorcycle crash. Additional compensation can be sought by bringing a lawsuit against the at-fault party. While filing a claim can never undo the damage done or the lives lost, it can provide much-needed support for a victim and his/her family.
Having a qualified Dallas car accident lawyer in your corner to fully investigate the circumstances surrounding the crash, track down evidence, and interview witnesses, can go a long way in establishing your case. To that end, we can help you pursue every avenue of litigation available and secure the benefits that your family deserves.
Is Lane-Splitting Allowed by Texas Motorcycle Laws?
Only one state in the U.S. explicitly allows lane-splitting: California. In Texas, legislators have introduced bills to allow lane-splitting as recently as 2017; however, they have not yet passed any official law on the practice. At best, lane-splitting is viewed as risky for motorcyclists, and any motorcyclists who engages in lane-splitting and is then struck by a car may have a harder time getting compensation from the at-fault party.
What Kinds of Injuries Are Common in Motorcycle Accidents?
Obviously, the severity of the injuries suffered will vary based on factors such as speed, angle of impact, where the accident occurs, the type of terrain, and what kind of protective gear the rider is wearing. But there are some commonalities in terms of injuries:
Road Rash. This is a usually somewhat superficial but extremely painful condition where the skin is literally rubbed off on contact with the ground. Gravel and other debris may be embedded in the skin and extensive areas of the body can be affected.
Degloving. This is a far more serious injury where a person's skin is literally ripped off of their body and requires multiple surgeries. It is an intensely painful condition.
Broken bones. In a forceful impact with the ground, the human body can only absorb so much energy before breaking.
Whiplash. While usually thought of in terms of automobile accidents, this neck injury is caused by the rapid back and forth movement of the head on impact. It can cause neck pain, headaches, and stiffness.
Spinal injuries. Motorcycle accidents can cause damage to the spine which can lead to partial or in some cases, total, paralysis.
What Steps Should Motorcycle Accident Victims Take To Protect Themselves?
While any victim's primary goal should be to try to recover from their injuries, the fact is that the cost of medical treatment and rehabilitative therapies can be overwhelming. The reality is that, in a car versus motorcycle accident, the motorcyclist is likely to suffer far more significant damage than the occupants of the car or the car itself. Insurance companies know this as well.
We understand that hiring legal counsel may not be the first thing on your mind. But we also understand that getting representation early may help you preserve your rights, allow for the collection of evidence, smooth the insurance negotiation process, and, when necessary, bring litigation.
Call Our Dallas Motorcycle Accident Attorneys for a Free Consultation
If your life has been adversely affected by someone's negligence while driving, you needn't suffer in silence. Give Crowe Arnold & Majors, LLP a call and let us be your spokesman. We will bring our years of trial experience to bear on those accountable and aggressively pursue a just compensation for your pain. For a free and confidential consultation call us today, at (214) 231-0555 and Toll Free (214) 231-0555.
Additional Information