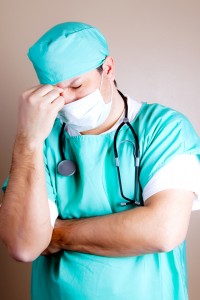 Last Friday in Myrtle Beach, South Carolina a medical malpractice malpractice case came to a close, leaving a married couple $2.85 million richer. Randy and Ann Greene have suffered immensely over the last 9 years due to a mishap that left Randy paralyzed from the waist down.
On April 4, 2004 Mr. Greene was in an automobile accident that severed an artery in his forearm. He was taken by ambulance to the Grand Strand Regional Medical Center, where his severe bleeding was being treated in the ER. Due to the severity of the bleeding, Randy was at risk of bleeding to death so the doctors began prepping him for an emergency surgery. While in pre-op for his arm, orthopedic surgeon Dr. Wayne Bauerle ordered for Green to be taken to get a CAT scan done on his knee. Going against the old rule of life over limb, he was taken to get the scan and his surgery was delayed by half an hour; almost resulting in a wrongful death. During this 30 minute window of inactivity, Randy went into cardiac and respiratory arrest. He was able to be resuscitated by an anesthesiologist and an ER doctor, but the delay had longer lasting effects. Because he wasn't taken into surgery immediately, a portion of Green's spinal cord had failed, leaving him paralyzed from the waist down.
In the years since the accident Randy and Ann have adjusted to their new life, but medical costs and new equipment for Randy have set them back quite a bit. $2.3 million was awarded to Randy and $550,000 was awarded to his wife and main caregiver, Ann.
If you or a loved one feel as if you have been mistreated or misdiagnosed by a doctor, the professionals at W.T. Johnson can help get you the compensation you deserve. You life and well-being is very important, and we will fight for you, please contact us for legal counsel.