Working on a job site can be rewarding and pay well when the project is completed. However, the actual process is very time consuming and meticulous when it comes to building great structures such as office buildings or high rise apartments. Sometimes these jobs require heavy machinery and dangerous equipment to complete, and should there be a malfunction in the equipment it could cause serious injuries for the workers.
Electrical Equipment Poses Risks For Workers
Because construction sites are not always in the most conventional areas and there is usually a previous established form of foundation and infrastructure in place or nearby, the use of high powered generates are often used to guarantee power for the job to be complete. These mobile power generators are capable of creating enough power to run multiple high powered machines and tools at the same time. Unfortunately sometimes electricity can be grounded incorrectly or go haywire on it's path, causing a dangerous scenario for those in the area.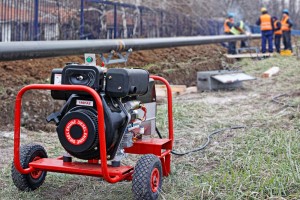 If a tool such as a saw or a drill is connected to an ungrounded electrical source, the amount of power surging through the cables is enough to knock a worker unconscious at the very least. In serious electrocution cases on a construction site, a worker can become attached to a conductive material during a shock. By not being able to let go of the power surge, their body could suffer very serious damages from the prolonged electrocution.
Severe electrocution damage can leave workers with life threatening injuries. Electrical burns occur deep in a victims tissue and can be extremely painful and very difficult to treat. Aside from that, serious brain and spinal trauma can occur after a sharp jolt of electricity. Sometimes victims are sent into a long lasting stem of a coma due to the shock to their brain. Other victims of construction site accidents suffer severe nerve damage that causes them to lose control of their limbs.
Construction Accident Injury Attorneys
Being injured on a work site or construction site could leave a victim in the hospital with mounting medical bills and a long period of time away from work to recover. Their families may suffer from the lost wages and in the long term, the victim may never fully recover from the injuries sustained by another party's negligence. If you or someone you know in the Dallas area has been injured or electrocuted due to an overlooked safety feature or piece of malfunctioning equipment, contact Crowe, Arnold & Majors today for help with your personal injury claim.