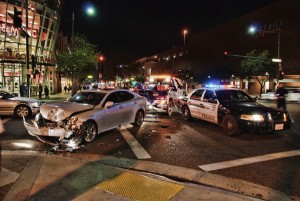 The same driver caused two separate car accidents on a recent night in downtown Dallas injuring at least five people. According to the Dallas County sheriff's office, the driver – who was suspected to be intoxicated at the time – caused the first crash on Uptown's McKinney Avenue.  Police say that the driver fled the scene of that accident, only to run a stop light on Akard Street and collide with another vehicle.
Five passengers in the second vehicle struck were taken to local hospitals. One of those passengers suffered injuries so severe that doctors were forced to place her in a medically induced coma. The vehicle's other passengers suffered injuries that include multiple broken bones and severe soft tissue damage.  
The driver who caused the crash also suffered injuries, but refused treatment. He's been charged with two counts of intoxication assault, according to the police.
When a hit and run driver causes injuries, it can be difficult to track down the negligent driver and hold them accountable for the harm caused.  
When a driver's identity is unknown, where do you begin?  
Should you file a claim with your own insurance company?  
What benefits are available? 
An experienced Dallas car accident lawyer can help answer these questions. Crowe Arnold & Majors, LLP will build your case by gathering evidence, talking to witnesses, and handling insurance claims. Let us handle your legal issues so that you can focus on recovering from your injuries.
Contact us at (214) 231-0555 to discuss your situation.