As the temperatures begin to climb, more and more people are making plans to head out on the water. Texas is a vast land with many options for water recreation, whether it be in man made lakes or naturally occurring rivers. If these plans involve the use of a motorized watercraft, maintaining safety while having fun is important to getting home safe and avoiding the risk of serious injury.
One of the most important things to do when participating in water sports and watercraft activities is to assure that you know how to operate and participate in such activities. While boating and jetskis can be fun, they do require some basic knowledge of operations before getting behind them. There are many companies that offer boat and jetski rentals near lakes around Texas. These companies are licensed and required to give a quick course on operation before renting them out to anyone expected to use them.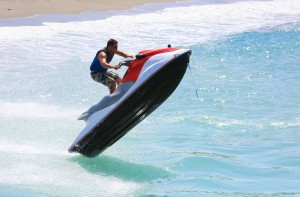 Boating and Alcohol
It's no secret that with fun in the sun mixed with cool bodies of water, there is likely to be alcohol consumption. Remember that legal drinking age and restrictions still apply while boating, and operating a motorized watercraft under the influence is just as illegal as it would be in a car. Anyone who is expected to be submerged in water, whether it is from swimming or tubing and water skiing, is advised to monitor their alcohol consumption to minimize the risk of an injury or accident.
Life vests and life preservation jackets are required for any boaters and passengers under the age of 14. If a boat is going to be moving at fast speeds it is not suggested to let young children ride in the boat. Should you be using a jetski or smaller, personal watercraft, be sure to fasten the safety "kill switch" cord in the event that you lose control.
Accidents On The Water
Sometimes boating accidents are not caused by any wrongdoings in your own craft, but rather the carelessness of another boater on the water. If someone behind the wheel of a boater is negligent towards wakes that larger crafts are leaving or just operating their boat recklessly, it could result in a serious accident. Every year in Texas dozens of boating collisions occur, some resulting in tragic deaths.
If you've been involved in a serious boating accident due to someone else's mistake, you deserve just compensation for your hardships. Contact The Law Offices of W.T. Johnson to get a free case evaluation today.