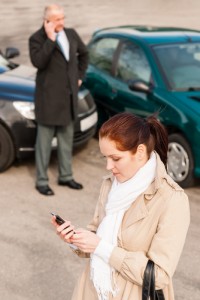 Under the unfortunate circumstances that you are involved in an accident, due to the negligence of someone else, that causes injuries, you should seek legal advice. If you decide to file a personal injury lawsuit after an accident, it's important to know what to expect from the process and how to prepare to make your claim.
Take Notes
After you've been involved in an accident, if possible, document the details of the accident. Make sure to include details of your injuries and how they've affected your everyday life. You most likely won't be able to recall details of your accident months down the road. These notes will be very useful when putting together your personal injury claim.
As soon as you are able to clear your head, take notes on how the accident happened. Jot down what you were doing right before the accident, who you were with, what time it was, what the weather was like, etc.
It's also important to document all of your injuries. As soon as possible after the accident, write down all the aches and pains you are feeling. These will come in handy when you're creating your demand for settlement weeks or months down the road. Writing down your injuries may also help your doctor better diagnose you. By telling your doctor about your injuries, they will become apart of your medical history and serve as evidence later on.
Gather Evidence
Return to the scene of the accident as soon as possible to gather any evidence and take pictures of any conditions you believe may be responsible for the accident. Take pictures at different angles. Gathering all of this evidence will show the insurance company how serious you are about getting compensation for your accident.
Try to locate any witnesses who were at the scene of the accident. Gather witnesses can be a huge help when making your case to an insurance company. They may also provide you with information about the accident you were unaware of that could show why the other party is at fault for the accident.
Notify Responsible Parties
If you were in an accident and have been injured, you must notify all persons involved that you are filing a claim. Notify all persons who you believe might be responsible for your accident. The number of people responsible often depends on what type of accident you were involved in. The important thing about giving others notice that you're filing a claim is not to wait too long. It's always best to notify them within the first few weeks after the accident.
From automobile accidents to dog bites, from medical mistakes to harmful defective products – anyone can suffer an injury through no fault of their own. At The Law Offices of Crowe Arnold & Majors, LLP we have decades of experience helping our clients get the money they deserve for their injuries. If you believe you have suffered a personal injury due to the negligence of another, contact us today.