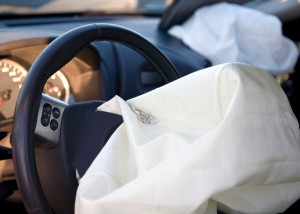 Drivers with vehicles containing defective Takata air bags are wondering why the air bags are causing harm, after several cases in which the air bags were triggered in a non-accident scenario. But even after months of testing and investigation by an independent group of engineers, no one has a clear answer, according to a recent article in USA Today.
The National Highway Traffic Safety Administration (NHTSA) recently stated that there may not be "one root cause," but instead a number of factors that combine to turn the air bags from a life-saving tool to an injury risk.
One of the factors that appear to be involved in the defective air bags is the use of ammonium nitrate in the chemical system that inflates the air bags. Chemical systems are used in all air bags to inflate the bag at the crucial moment during a car wreck. While most bags use nitrogen gas as an inflator, the Takata air bags used ammonium nitrate, which the company described as less expensive and less toxic. However, ammonium nitrate can become unstable at temperatures over 100 degrees Fahrenheit – which a car sitting in the sun on a warm day can easily exceed.
Currently, ten different auto companies have recalled vehicles that contain the defective Takata air bags. So far, over 100 people have been injured and six have been killed in accidents that have been linked directly to the defective air bags. Experienced Texas auto product defect lawyers have been following the situation closely. Crowe Arnold & Majors, LLP encourages owners of the recalled vehicles to get them repaired as soon as possible.