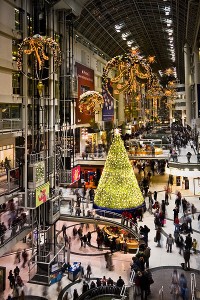 For many Texas families, holiday shopping is an annual tradition as well as a good deal of fun. But with so many people crowding the roads, parking lots, and aisles of malls and stores throughout the state, the risk of injuries can also increase. Here are four common causes of holiday shopping injuries known by every experienced Dallas injury lawyer, and some easy ways to avoid them.
Slip and fall injuries. Slip and fall injuries can occur on icy or snowy sidewalks, or in slushy entryways. Wet floors, torn carpets, burned-out lightbulbs, dropped food or other items, and escalator malfunctions can also cause slip and fall injuries. Avoid these by moving a bit more slowly when you shop and watching where you step, especially if the weather is bad.
Head, neck and body injuries. The holidays mean that stores want to put out all their merchandise, so shoppers can find what they want more easily. Overcrowded retail displays or shelves stacked higher than usual can mean falling objects, which can cause injury. Keep your distance from shelving, and ask for help if you want to lift down anything over your head.
Shopping cart injuries. They're unusual, but they're not impossible. A shopping cart that tips over can hurt anyone it falls on, or you may be injured if someone else runs into you with a full cart. Keep two hands on your cart whenever you push it, and don't let children ride anywhere but in the seat reserved for them in the front.
Car accidents. Holiday shopping means overcrowded parking lots and roads, which can mean fender-benders – or worse. Leave plenty of time to get where you're going, and avoid distractions while you're behind the wheel.
The knowledgeable personal injury lawyers at Crowe Arnold & Majors, LLP wish everyone safe and happy holidays.