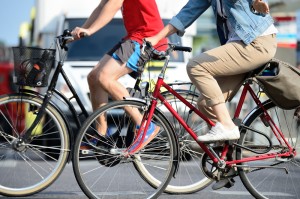 It seems like there are many bike components that fail, resulting in a recall. This time, SRAM LLC of Chicago, Illinois is recalling a hydraulic bicycle brake due to crash and injury hazard, according to the Consumer Protection Safety Commission (CPSC). This recall affects over 23,000 bikes sold between May 2013 and December 2013, under various brands such as:
ASI: Fuji Altamira CX 1.1
Cannondale: Super X Hi-Mod Black Inc.
Diamondback: Steilacoom RCX Carbon Pro Disc
Felt Bicycles: F2x, Z2 Red and Z3 Red
Jamis: Supernova Team
Kona: Super Jake
Norco: Threshold C1and Threshold SL
Orbeastern: Avan M-LTD
Specialized Bicycles: Crux Elite Carbon Disc Rival, Crux Elite Evo Carbon Disc, Crux Expert Carbon Disc Red, Crux Pro Race Carbon Disc Red, and Crux Sport E5 Disc Apex
Volagi: Liscio 2
Complete details of the recall can be found at: http://www.cpsc.gov/en/Recalls/2014/SRAM-Recalls-Hydraulic-Bicycle-Brakes/
To date, the CPSC has had 95 reports of the hydraulic brake system failing, several of these failures have resulted in an injury to the rider.This product failure has affected amateur bike riders all over the US, and has also affected the US Cyclocross Nationals. Bikes can be taken to any SRAM dealer for a free replacement of the brake system.
Causes Of Bicycle Accidents
According the Center for Disease Control and Prevention, annually there are more than 500,000 people treated in emergency rooms for bicycle related injuries. There are three main causes for bicycle accidents:
Accidents involving cars.
Road hazards.
Failure of a bicycle component.
Accidents Involving Cars
Accidents involving bicycles and cars are the leading cause of injury and death among bike riders. In some instances, the driver of the car is at fault, but bicycle riders also contribute to their own injuries by not following traffic laws.
Road Hazards
There are many road hazards that also contribute to bicycle accidents. Potholes, uneven pavement, and gravel on the road affect the rider's ability to safely handle the bike. When the bike rider swerves in traffic or actually falls, the consequences can be perilous for the rider if they are struck by a car, as a result.
Failure of Bicycle Components
However, the failure of one or more components of a bicycle is the cause of many bike accidents that result in injury. Brake failure can cause the bike to be uncontrollable and very dangerous. The bike rims and tires are also prone to having defects that result in injury to the rider. The frames can come apart at the welds, and the front fork can break, again causing the rider personal injury.
In 2009, a bicycle rider was awarded $722,800 for injuries he received when the front fork of the bicycle he was riding snapped, causing him severe injuries. There have been many other cases of product liability settlements and lawsuits with bicycles.
If you have been injured in a bicycle accident, the experienced attorneys at Crowe Arnold & Majors, LLP can assist you in getting the compensation you deserve. Call us today to set up a free consultation.