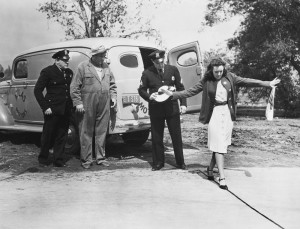 Accidents can occur when we least expect them. There are many factors that directly correlate to the severity of a car crash, but there are even more potential causes of a wreck. Arming yourself with the knowledge of various car accident causes will hopefully make you a more mindful driver in the future. Wrecks can happen to anyone, even movie stars who can been seen driving at breakneck speeds on the silver screen. Paul Walker, of Fast and the Furious fame met his untimely demise earlier this week due to a fiery, high-speed car crash. In his case, all the signs point to speed being the main factor for his vehicle's loss of control. Paul Walker was the passenger in a Porsche Carrera GT, one of only a handful made, when Roger Rodas lost control of the vehicle. Walker and Rodas both were caring gentlemen, who had a passion for philanthropy. Their deaths have occurred too soon, but looking forward, maybe this news can serve as a reminder to stay safe out on the roads. Look out for these common car crash causes, and drive safely out there!
1. Vehicle Speed
When you think of a crash that's attributed to vehicle speed, I'd imagine most would think of high speed racing, but there exists a big risk of wrecking if drivers travel below marked speed limits as well. However, the severity of a crash is usually higher when the speeds are higher. A bit of physics comes into play when judging the severity of a car crash. The top speed of the vehicle isn't the determining factor of the severity, but the change of speed has everything to do with the car and its occupants' physical reactions. For example, if your vehicle loses control on the highway and you come in contact with another car that is traveling the same direction as you, then (given you both don't collide with a guardrail or wall) you two stuck together and eventually slowly slide to a halt. In this case the severity of the crash is low due to the slow, gradual decline of speed following the collision. On the other hand, if your vehicle is traveling down the road, you lose control, and you hit an immovable object like a telephone pole or a brick wall, the effects of the wreck will be more severe. The abrupt stopping will have more dramatic effects on the human body and structure of a vehicle. Studies show that 18% of all fatal car crashes were a direct effect of speeding.
2. Alcohol
As we all know, drinking and driving is a horrible combination. Alcohol-related and alcohol-caused accidents are two different things. An alcohol-related accident involves anyone, be it passenger, driver, pedestrian, or cyclist, who has a measurable Blood Alcohol Content (or BAC). This mean that a crash that involves a completely sober driver who hits a drunk pedestrian is categorized by the United States National Highway Traffic Safety Administration (or NHTSA) as an alcohol-related accident. Alcohol-caused accidents mean the driver of the car that made the impact is under the influence of alcohol. In the state of Texas the legal BAC of a 21-year-old or older driver is too inebriated to drive if their BAC is .08 or higher. Texas is a "zero tolerance" state as well; this means that if any driver under the legal drinking age is pulled over and is proven to have any alcohol in their system, they will get an alcohol-related citation. Drunk driving accidents cause thousands of fatalities a year, please drink responsibly.
3. Physical Complication
If you take a look at your driver's license for the state of Texas you may or may not have an indicator saying that you are visually impaired without corrective lenses or contacts. I personally am near-sighted and would be posing a huge risk if I were to drive without my glasses on. If one is pulled over without their glasses and has the license requirement, a ticket may be issued. Visual impairment isn't the only way one can be physically complicating their own safety; disabilities also make it hard for a person to operate a vehicle. Different mechanisms can be installed to make a vehicle usable for people with disabilities, but depending on severity, one may be at greater risk of crashing.
4. Youth
As you may notice, insurance rates for young, new drivers are commonly higher than an older, more established motorists. The reason behind this isn't an age bias, but drivers in their late-teens and early twenties are the most prone to accidents and fatal wrecks out of all other age groups. Data shows that females in this age group are less likely to be involved in a fatal accident, but their rates are still higher than the other age groups. This data has been held true even before the onslaught of smart phones in the hands of drivers; younger drivers have historically driven more recklessly than any other age group. 15 years is now the lowest age of a driver you'll find on the road with a learner's permit of course, but for an amount of time the lowest age a driver was 14. No states currently allow 14-year-olds to drive anymore!
5. Sleep Deprivation
It's been said that driving while drowsy is as dangerous as driving drunk. There is no test to determine if a driver is too sleepy to drive; but drivers should exercise caution and determine themselves if they are too drowsy to operate a motor vehicle. To some it may be shocking, but drivers aged between 18-29 are most likely to get in a wreck due to fatigue. The key to halting these statistics is to know yourself and your limitations when driving, and knowing if you're at risk of falling asleep at the wheel. Each year it is estimated that 100,000 crashes are caused by sleepy driving, so protect yourself and others by getting some rest! Some sleepy crashers have even been sentenced to jail time for their tired driving.
There are countless factors that can cause a car accident; some other examples of causes are distracted driving, drug use, car design, and road design. Here at Crowe Arnold & Majors, LLP we know that car accidents can be a big headache, so if you're injured in a wreck please contact our Dallas car accident lawyers for all of you legal needs!