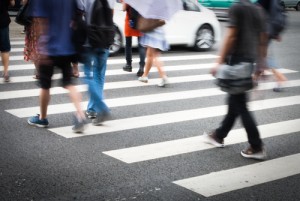 As the cooler air slowly makes its way to Texas, you might see more pedestrians walking around Dallas and enjoying the fall breezes. But watch out, because in the next 24 hours, on average, more than 460 people will be treated in an emergency department for traffic-related pedestrian injuries from a pedestrian accident. When you are a pedestrian, it's important to keep these pedestrian safety tips in mind:
Never assume the driver sees you: Just because you can see the driver, it doesn't mean they are watching you. They could be distracted by something in their car or their phone. Don't ever walk in front of a car unless it is completely stopped at a crosswalk.
Bring a flashlight when walking around at night: If you only wear white or bright colors at night, it still can be hard for drivers to see you. The best way to be visible to drivers and avoid pedestrian accidents at night is to carry a flashlight and wear reflective clothing.
Watch out even when you are using a crosswalk: Many pedestrian accidents occur in crosswalks because the driver didn't see the crosswalk or stop in time. It's important to always be alert and looking around even when using a designated crosswalk, so you don't end up in a pedestrian accident.
Never jaywalk: If you are running across the street that doesn't have a crosswalk, and you get hit by a vehicle, the driver is usually not at fault. It's important to use designated crosswalks and sidewalks to prevent becoming a victim of a pedestrian accident.
If you or a loved one were a victim of a Texas pedestrian accident, you deserve justice and compensation for your physical and emotional turmoil. Contact the Law Offices of W.T. Johnson today and set-up your free, no-obligation consultation.