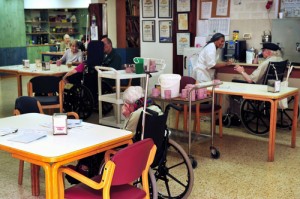 If you aren't able to care for your elderly loved one anymore, you want to find the best nursing home for them. It is is hard to know which nursing home is safe though since there are more than half a million cases of nursing home abuse in America every year. To help protect your loved one, you can look out for these signs of nursing home abuse and neglect:
Signs of physical and emotional nursing home abuse
Bruises, welts or scars
Broken bones, sprains or dislocations
Broken eyeglasses
Rope marks on wrists
The caregiver won't allow you to see your love one alone
Threatening, belittling or controlling caregiver behavior
Signs of nursing home neglect
Unusual weight loss, malnutrition, dehydration
Bed sores
Unsanitary or unsafe living conditions
Being left unbathed
Unsuitable clothing or covering for the weather
Your loved one is left at a public place
If you have noticed any of these signs of nursing home abuse or neglect displayed in your loved one, you should report it as soon as possible. Most elderly don't report their abuse because they are afraid of what might happen to them if they tell someone.
If you or a loved one are experiencing nursing home abuse or neglect, the experienced Dallas nursing home abuse lawyer from Crowe Arnold & Majors, LLP can help you get the compensation you deserve for your physical and emotional trauma. Contact us today and set-up your free, no-obligation consultation.