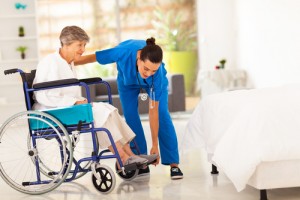 If your elderly loved one needs more care than you can provide, you have most likely made the difficult decision to place your elderly loved one in a nursing home. Now the even harder part remains in deciding which nursing home to choose. To help protect your elderly loved one from nursing home abuse and neglect, look out for these top causes of nursing home abuse and neglect:
Inexperience: Sometimes nursing home workers have never cared for the elderly, and just take a job at a nursing home because they need to work. But an inexperienced nursing home staff member might become frustrated and lash out unexpectedly at your elderly loved one, which starts most cases of prolonged elder abuse in nursing homes. Also, inexperienced nursing home staff members might not notice signs of malnutrition or other health problems before it's too late. It's vital to make sure the staff working at your loved one's nursing home have experience helping the elderly, and a caring heart.
Lack of Qualifications: Even if a nursing home staff member has been employed for awhile, they might not have the necessary qualifications needed to be an exceptional nursing home worker. If caregivers don't have the proper training, they might abuse your elderly loved one without realizing it. Improper training can lead to a nursing home caregiver not helping your loved one out of bed properly, into the bathroom appropriately, or lead to other cases of nursing home abuse and nursing home neglect.
Even if you think you have found a good nursing home for your loved one, later on you might discover they have experienced nursing home abuse or neglect. If your loved one was the victim of Texas nursing home abuse or neglect, they deserve justice and compensation. Contact a Dallas nursing home abuse lawyer from Crowe Arnold & Majors, LLP today and set-up your free, no-obligation consultation.