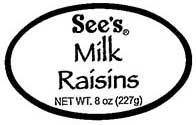 Recently See's Candies recalled its milk and dark chocolate covered raisins because they contain the allergens of nuts and eggs, but don't state so on their packaging. If you are allergic to nuts and eggs, you could have a serious or life-threatening allergic reaction if you eat these products, but no illnesses have been reported yet.
The food recall was issued after a retail store employee found a chocolate covered pecan in the raisin bulk pack. The candies were made in a factory with shared lines that produce candies with nuts, so there is a chance that nut and egg residue might be in some of the chocolate covered raisins.
The recalled products were distributed through See's Candies Retail Stores, Licensees and Mail Order. The recalled raisins were sold in bulk and packaged at the stores in 8-oz clear cellophane bags. If you purchased the recalled raisins and are sensitive to nuts and eggs, do not eat them and return them to where you bought them for a full refund or exchange.
You should never have to worry about food you purchased harming you, but food poisonings occur more often than you would think because of negligent companies. Food poisoning is a serious issue and can lead to injury or even death. If you or a loved one were the victims of food poisoning, you deserve compensation for your emotional and physical turmoil. Contact the Law Offices of W.T. Johnson today, and set up your free, no-obligation consultation.