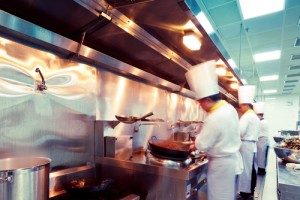 Since September is National Food Safety Month, we want to help share some tips about how you can prevent food poisoning. Many people experience food poisoning by consuming products that had food allergens without being warned they contained allergens. This year's Food Safety Month theme is to avoid a reaction, take action.
There are around 160 food products that can cause allergic reactions that result in food poisoning symptoms, but there are eight food items that account for 90 percent of food allergies, which are:
Milk
Soybeans
Peanuts
Fish
Shellfish
Tree nuts
Eggs
Wheat
For those who are working in restaurants, an important way to keep guests safe who have food allergies is to protect them from cross-contact, which is when a food allergen is transferred to a food that didn't have an allergen to begin with. You can prevent this by:
Washing, rinsing and sanitizing cookware and utensils that contained the allergen before using them to cook another food.
Wash your hands and change gloves after preparing food that contains allergens.
Use separate fryers and oils when cooking products for guests who have food allergies.
Prepare food for guests with food allergies in a separate area.
Many restaurants try hard to protect guests with food allergies from food poisoning, but not all are as vigilant. If you or a loved one have food allergies, and were a victim of food poisoning due to a negligent restaurant or company, you deserve justice and compensation. Contact the Texas food poisoning attorneys at the Law Offices of W.T. Johnson today and set-up your free, no-obligation consultation.