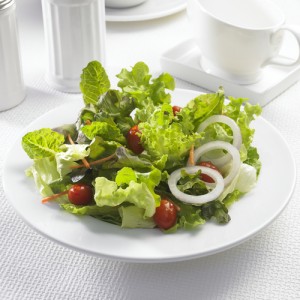 Last week we mentioned a recent food poisoning outbreak of cyclospora, a gastrointestinal parasite that causes stomach illness, but officials were not sure where it was coming from. This week health officials in Iowa and Nebraska identified pre-packaged salad mix as the source of the severe food poisoning.
The U.S. Centers for Disease Control and Prevention says 372 cases of the cyclospora infection, which causes diarrhea and other flu-like symptoms, have been reported in 15 states, including Texas. Yet the CDC said that it's not clear whether all of the food poisoning illnesses caused by cyclospora are linked to a single source.
Nebraska officials said the salad mix that lead to the food poisoning included iceberg and romaine lettuce, along with red cabbage and carrots, which came through national distribution chains, but they didn't identify specific brands.
In Texas, public health officials have received 122 reports of the food poisoning illness but have not yet found a link. The Texas Department of State Health Services issued an advisory that urged health care providers to test patients if they show symptoms of the food poisoning, such as lingering diarrhea and other flu-like symptoms.
If you or a loved one have experienced food poisoning due to the negligence of a company, you deserve justice for your emotional and physical trauma. Contact the experienced Texas food poisoning attorneys at the Law Offices of W.T. Johnson today and set-up your free, no-obligation consultation.