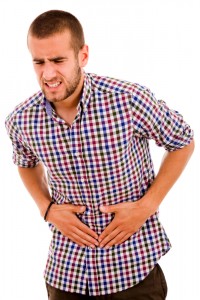 In one of the largest cases of E. Coli contamination in recent memory, Glass Onion Catering based out of Richmond, California has reported that 181,620 pounds of product has been tainted by E. Coli. The affected foods are a series of ready-to-eat salads and lettuce wrap supplies that include fully-cooked grilled chicken and ham. The specific strain of E. Coli is called O157:H7, and the USDA has discovered that 26 people, across three states have fallen ill from the particular strain. Some of the products were packaged under the name Atherstone Fine Foods.The tainted products were manufactured between September 23rd and November 6th and were soon after shipped to distribution centers where they were intended to be sold in Arizona, California, Nevada, New Mexico, Oregon, Utah, Washington, and Texas. The salad wrap packs were sold at Trader Joes and Walgreens. If you've recently bought a product matching the description above, double check to make sure you aren't at risk!
E. Coli O157:H7 is a potentially deadly strain of bacteria that can lead to kidney failure, other symptoms include:
nausea
vomiting
stomach pain and cramping
diarrhea
fever
Many victims who ingest it, usually get over the illness within a week, but people with weaker immune systems have a higher risk of complications. Children under five-years-old and the elderly are most at risk. O157:H7 is signified by easy bruising, decreased urine output and a pale, sickly appearance.
Food poisoning is one of the most uncomfortable and irritating afflictions that can fall into our lap. If you or a loved one falls ill due to the mistakes of a manufacturer or restaurant, please contact a Dallas food recall lawyer at W.T. Johnson for legal help!