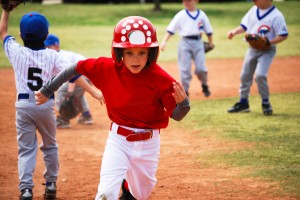 T-ball, Pop Warner football, AYSO soccer—kids in Texas have a lot of options for going outside and getting active. Encouraging kids to play sports can help them learn sportsmanship and how to be a good team player. But, as sports fans know, the field can be dangerous and child sports injuries are unfortunately a part of life.
Earlier this month, a California high school football player suffered a traumatic brain injury (TBI) during a game that left him in a coma for over a week. The boy is out of the coma and his condition is improving, but he will need extensive physical therapy. His mother told local news that his treatment "is anticipated to be a slow and lengthy recovery."
One of every five TBIs among children in America is because of sports. Both the NFL and NCAA have changed rules for how head injuries are treated on the field in recent years. Players showing even the slightest sign of a concussion are removed from games. Here are some tips to help keep kids safe when they're suiting up for the field:
Supervise younger children at all times. Don't let them use sporting equipment or play sports that are too advanced. Also, don't let them play with older, bigger kids.
Follow rules and warning signs. This is especially true at water parks, swimming pools, and public beaches. A head injury and water don't mix.
Wear the right clothes for the sport. Helmets, knee pads, elbow pads, shoulder pads, face protectors are all there for a reason. The Cowboys don't play in shorts and T-shirts on Sundays.
Don't play sports when you're sick or really tired. Not being at 100% when everyone else on the field is can be dangerous. Being slower can get your kid knocked over. Or knocked out.
Avoid uneven or unpaved surfaces when cycling or skateboarding. Always be aware of where wheels are. Any bump in the road can send your child flying.
Don't slide head-first. Don't tackle head-first. Putting your head in front of your body while flying through the air is an easy way to get injured. Serious damage to the head or neck can be done.
Replace any damaged equipment or protective gear. Sports gear is meant to help keep people safe. Make sure what your kid has on works to its best. You're both counting on it.
A traumatic brain injury can affect all aspects of someone's life. Don't let your kids get hurt. Protect them with the proper equipment and teach them the safe way to play the game. But, injuries still happen. If you or a loved one suffers any type of brain injury, get medical treatment. Then, contact an experienced Dallas brain injury attorney to see what your legal rights are.
Contact Crowe Arnold & Majors, LLP at (214) 231-0555.