As the weather begins to warm up and the sun pokes it's head out for longer hours of the day, many people will start knocking the rust of the chains and bringing out their bikes again. The warm sun, the nice breeze, and two wheels cutting down the road is a favorite past time for many daily commuters.  However, despite how convenient and peaceful a bike ride may be, there are still serious dangers facing cyclists today.
One of the biggest dangers facing a bicyclists is crossing a street at an intersection. Often times a cyclist will be going steadily with the flow of traffic down a road and come to an intersection with a green light.  They will then cross the intersection in the bike lane, just as a car would.  Unfortunately this is probably the most risky time to by a cyclist.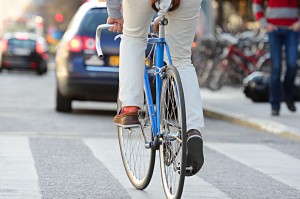 RIght Turns On Red
Traffic laws in Texas allow motor vehicles to make right turns on red lights if there is no immediate traffic heading their way, so that the flow of traffic can continue without the risk of accident. It is because of this that motor vehicle drivers are keeping an eye out for oncoming cars and trucks when they approach a red light expecting to turn right.  As a result they tend to overlook smaller obstacles coming towards them, such as pedestrians or cyclists.
Even if a responsible cyclist is wearing a helmet and reflective gear, there is a still a high risk of being struck by a car and seriously injured. Common traffic commuters have a tendency to not take in the entire picture while they're driving and just only pay attention to larger cars in traffic. Being struck from the side while on your bicycle can cause serious injury and head trauma which unfortunately sometimes results in death.
Justice For Your Injuries
Being hit by a car while on your bicycle can mean serious time spent in a hospital to recover, as well as time away from work and your daily routine.  In more unfortunate cases there are extended, long lasting injuries such as severe paralysis or head injuries that can occur from a driver's negligence.
If you or a loved one has been injured while riding your bike due to the carelessness of another driver, you deserve a fight for just compensation. Those responsible, or rather irresponsible behind the wheel, should be held accountable for the hardships they made you endure. Contact the Dallas bicycle accident lawyers at Crowe, Arnold & Majors today to schedule a free consultation.