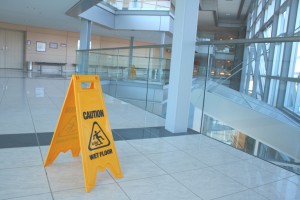 Slip and fall accidents cause thousands of injuries in Texas each year.  Many of these injuries happen in restaurants, stores, and similar places where people are. Slip and fall accidents go up during the holiday shopping season.
When you head out to the mall or your favorite store to pick up food, gifts, or decorations this holiday season, watch out for the following hazards:
Spilled food or drinks. Many holiday shoppers grab a coffee or snack "on the go," only to drop it when they are jostled by another shopper or while trying to juggle their treat and their own shopping bags.  Watch closely for these spills.
Stacked boxes or containers. Store staff may be rushing to re-stock popular items – leaving boxes, containers, pallets, or hand trucks in the aisles. Pay attention when going around corners and navigating past workers.
Snow, mud, and water.Rainy or snowy weather means that water, slush, and mud get tracked into stores. This turns many entryways into dangerous paths.  Wear boots or shoes with good treads and step carefully to avoid an accident.
Poor lighting.The soft glow of holiday lighting creates a comforting ambience and may be used to draw customers into stores – but holiday lights alone are rarely enough to provide the lighting needed to spot hazards like uneven floors, ripped carpeting, or broken tiles.  When you see holiday lights, remember to step carefully.
If you have any questions about slip and fall accident, contact Crowe Arnold & Majors, LLP at (214) 231-0555. We can help.