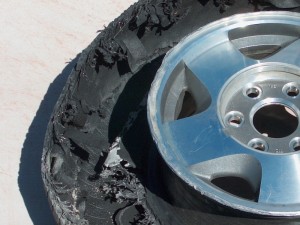 Every year, approximately 11,000 car accidents nationwide are caused by defective, worn, or improperly-maintained tires, according to the National Highway Traffic Safety Administration (NHTSA). Nearly 200 people die in these accidents every year, and dozens more are injured. Even when tires don't cause accidents, under-inflated or worn tires reduce gas mileage, forcing consumers to waste money at the pump and put unnecessary wear and tear on their vehicles.
To help consumers make smarter decisions about their tires and prevent these accidents, the NHTSA recently launched its "TireWise" safety campaign. The agency has also updated its SaferCar mobile app with tire information, giving consumers an easy source of data when they are buying tires, examining their vehicle's current tires, or performing maintenance.
Here are four simple tips the NHTSA and experienced Texas car accident lawyers suggest all drivers consider when it comes to tire safety:
Check tire pressure and treads regularly. Make sure your tires have the proper amount of inflation and that your treads are not too worn to allow you to stop and turn safely, even on wet or icy roads.
When you replace your tires, have a qualified technician perform a balance and alignment. This will help your vehicle drive more safely and with less unnecessary wear.
Read your owner's manual for information on when you should rotate your vehicle's tires. Follow these recommendations.
Register your tires with the manufacturer, either by mail or online, in order to get safety updates and information more quickly. You can also check for tire recall information at the NHTSA's official website, SaferCar.gov.
If you have been involved in an auto accident due to defective tires or negligent auto maintenance, please contact Crowe Arnold & Majors, LLP. Call (214) 231-0555 for a free consultation about your legal rights.