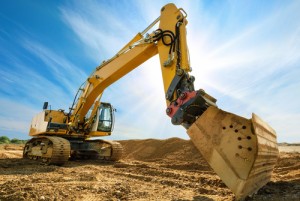 In 2011, there were 738 construction accident fatalities in America. Many of these construction accidents occurred in Texas, and some of the most common causes of Texas construction accidents were electrocutions, falls and being struck by objects. To help prevent traumatic construction accidents, here are three tips on how to stay safe at a construction site:
Be extra alert when getting on and off equipment: The most common cause of construction accident injuries to equipment operators, forklift drivers and truck drivers is getting on and off machines. It's important to clean off boots and gloves of any debris before mounting or dismounting equipment and to securely engage your hand and foot on the steps while climbing up or down.
Keep machine operating area free of onlookers: Many times, backhoe operators say their biggest frustration is other construction workers on the ground crowding their operating area. During safety meetings, make sure construction workers realize the hazard of hanging out in the operating area, and make sure the operator isn't afraid to use the horn to alert workers to move.
Get off the machine and look before backing up: Construction accidents often occur when someone is backing up machinery. Many times backup alarms are ignored, so it's vital that operators get off their machine to look around the area before backing up. Try to always have a spotter to help out when backing up to avoid a tragic construction accident.
Even if you are careful on a Texas construction site, many others aren't. If you or a loved one were the victim of a Texas construction accident, you deserve justice and compensation for your emotional and physical trauma. Contact the experienced Texas construction accident attorneys at Crowe, Arnold & Majors today and set-up your free, no-obligation consultation.