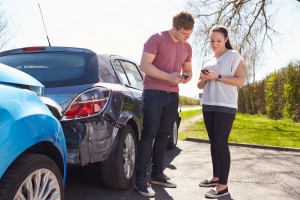 No one can forget the utter shock of being in their first car accident. If it was your fault or not, there is no beating that sinking feeling. Unfortunately, the risk of automobile accidents is a constant in life. To avoid that lost feeling next time you're in an accident, keep the following advice in mind.
1. Keep Safety Your Main Priority
First and foremost, make sure that the risk of danger is completely gone. Did the accident take place in the middle of a busy street? If so, remove yourself and others from danger. Next, make sure everyone's alright by analyzing the severity of injuries, if any. Everyone is going to be in a bit of a state of shock, so it's key that you keep your wits about you.
2. Call the Police
Getting the police involved is necessary for a number of reasons. If someone is getting hostile, the police will keep them in check. The report they file can also establish who is liable for the accident. Police officers have seen plenty of wrecks in their days. If police are present, they will establish a sense of order, and safety.
3. Gather Every Piece of Information
Get as much information about the incident as possible. It is key to collect contact information of eye witnesses, and the other drivers involved. Be sure to get the other driver's name, address, phone number, email address, license number, and insurance information. Most phones these days have cameras, bust it out and take as many photos as you can!
4. Don't Admit Fault
Tensions will be high at the scene of the wreck, but don't break under the pressure. If it was or wasn't, don't admit fault. Don't let something you say when you're not in your right mind come back and bite you.
5. Contact Your Insurance Company
Report the accident as soon as possible afterwards and get your side of the story in the system as soon as possible. Let them know the other driver's information, and that a police report has been filed. After that, your insurance company will let you know what to do next.
Accidents happen, we here at the Law Office of W.T. Johnson understand that we can't prevent everything that life has to throw at you. If you need legal consultation regarding a car accident, contact us for help.