Legal Help for Bus Accident Injury Victims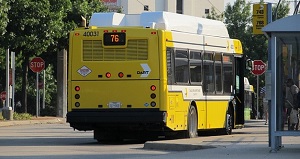 At Crowe Arnold & Majors, LLP, our experienced Dallas bus accident attorneys are dedicated to helping bus accident victims and their families bring justice against negligent bus drivers and transportation companies. If you or someone you love has sustained serious injuries, or worse, been killed, you may be entitled to compensation for medical and funeral expenses, pain and suffering, and more.
Contact us to receive the high-quality legal representation you need to overcome your legal and financial hardships and make a recovery. We operate on a contingency-fee basis, which means you won't have to pay us a cent unless we get you compensation. To discuss the details of your case with one of our dedicated staff in a free consultation, call (214) 231-0555.
Who Is Liable for a Bus Accident In Dallas?
In a bus accident, liability can reside in different places depending on who owned the bus, what caused the accident, and whether the bus was privately or publicly managed. An accident can be the result of any number of factors including bus driver fault, vehicle malfunction, weather conditions, or other reckless drivers.
In a school bus or other public bus accident, including DART bus accidents, the bus driver through negligence or inappropriate behavior may have caused the accident. However, liability may also rest on those who hired and/or trained the driver, those who inspected the vehicle, and those who oversaw the personnel. Under the Texas Tort Claims Act, injured individuals are permitted to pursue claims against those responsible even if that means a claim is brought against a government entity. There are, however, limits on the damages that can be collected.
In a private bus accident, such as a tour or party bus accident, liability may rest on the shoulders of the driver, other drivers, the company that runs the bus operation, the people who hire and train the drivers, and even the people who maintain the buses. Obviously, if the cause of a bus accident is a mechanical failure of the bus itself, the manufacturer or maintainer of the vehicle may also be liable.
Liability for a bus accident is in some respects similar to a car accident, because the actions of the at-fault driver, the condition of the car and the road, and the responsibility of other drivers will all be considered. Unlike a car accident, however, a bus driver is held to a higher standard of care.
How Can I Win My Dallas Bus Accident Lawsuit?
Getting full and fair compensation after a bus accident isn't as simple as just filing a personal injury claim and waiting for approval. Transportation companies have the resources to employ professionals that specialize in claims denial, and the liable party in your case will most likely do everything they can to avoid giving you the compensation you deserve – all for the sake of preserving their bottom line. They may even go so far as blaming you, the victim, for your injuries.
In order to win your case, you will have to be able to prove that the liable party's negligence caused the accident. Your attorney's job is to collect evidence that presents your side of the story in the most favorable light, while illustrating the other party's negligence. An investigation of your case may include:
Analyzing police and medical reports in addition to photographs
Collecting witness statements
Recreating the accident with the assistance of accident reconstruction specialists
Establishing whether any bus regulations or traffic laws were violated
What Damages Can I Recover in a Texas Bus Accident Lawsuit?
After consulting with medical and financial experts, your Dallas car wreck attorney will determine which damages should be requested in your claim. Depending on the circumstances surrounding the accident, you may recover the following:
Current and future medical expenses
Funeral and burial costs
Lost wages
Loss of future earning capacity
Pain and suffering
Loss of enjoyment of life
Loss of intimacy and support
Attorneys at Crowe Arnold & Majors, LLP Can Give You Support
At Crowe Arnold & Majors, LLP, we understand that bus accidents are a traumatic experience and will treat your case with the sensitivity and seriousness it merits. If you have any questions, feel free to bring them to us and we will answer them to the best of our ability. Contact our Dallas office today for immediate assistance from one of our experienced Dallas personal injury lawyers.
Crowe Arnold & Majors, LLP offers you our 25 years of experience and a free case evaluation if you or a loved one has been injured in a bus accident. Contact us at (214) 231-0555 and toll-free (214) 231-0555.
Additional Information