Injured in an Aviation Accident?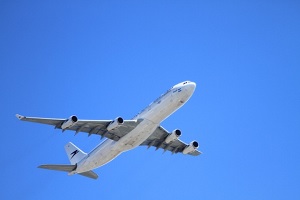 Flying in a plane is relatively safe these days, but accidents do occur. Some crashes are so devastating that all passengers and crew perish, leaving loved ones lost and suffering. Sometimes there are only a few survivors and those who do survive are often injured, left with tremendous medical and therapeutic expenses. If you have been hurt or if your loved one has died in a plane crash, you need to hire an aviation accident attorney from Crowe Arnold & Majors, LLP .
Our Role in Crash Investigations
Every plane crash is investigated by the Federal Aviation Administration. This agency tries to determine what caused the accident. In some cases, it is mechanical problems, the weather, or pilot error. But the cause doesn't matter to you as much as your physical and emotional pain or the death of your family member.
Let our aviation accident lawyers at Crowe Arnold & Majors, LLP investigate the cause for you. With the help of the FAA's findings, our personal injury attorneys can develop the best strategy for not only winning your case, but getting you the largest settlement possible. Call (214) 231-0555 for a free consultation.
Types of Airplane Accidents
Whether in a commercial or private airplane, helicopter, or emergency air transport, accidents can happen due to any one or combination of the following:
Pilot error
Pilot negligence (such as flying while sleep deprived or under the influence)
Airport employee negligence (giving poor instructions or missing critical information)
Mechanical failure (maybe faulty design, defective manufacturing, or in faulty operation, or due to inadequate maintenance)
Inadequate training
Weather- related mishaps
These lead to danger both in the air – like turbulence or collisions with other planes or objects – and during take-off, landing, or even taxiing.
Legal Issues in Airplane Accidents
During a loved one's recovery from an airplane accident, most of the effort and focus is on helping them heal, mentally and physically, from their injuries. These injuries and their treatments can be not only extensive but extremely expensive. So knowing that there are potential avenues for recovery for some of those costs can help relieve some stress during these difficult times.
Legal issues abound in airplane accidents ranging from questions of causation (what caused the accident to happen) to those of liability (whose fault it was and who is legally responsible). Untangling the web of possibilities is complicated, especially added to the difficult job of trying to comprehend what happened, and demands the assistance of a legal team that understands the intricacies of aviation accidents specially.
Commercial airplane operations are "common carriers" that may be potentially responsible for an accident, as may airplane owners or operators or the manufacturer of an airplane component. The pilot or ground control operators may also be responsible.
Potential Legal Theories
Regardless the type of aircraft involved in the accident, the National Transportation Safety Board (NTSB) and/or the FAA may get involved in the investigation of what happened. Be aware: these agencies are simply investigating in order to identify what happened in the hopes of preventing future similar accidents. They do not work for you or on your behalf.
Depending on the facts of each specific case, there may be a potential cause of action for negligence against one or more parties; product liability due to the failure of a product's design or manufacture; or violations of federal or state law that deserve to end up in court. Understanding this complex mix, identifying and investigating the facts, and uncovering the potentially responsible parties are critical steps in pursuing a legal claim.
Costs that may be recoverable include medical expenses, lost wages, pain and suffering, emotional distress, and in some cases, even punitive damages. But there are strict time limitations in which claims can be brought for aviation accidents.
Help When You Need It
Most victims of plane crashes have not only physical injuries, but emotional scars as well. These affect their ability to enjoy life and move past the accident. Some injuries are so bad they prevent a person from working, which causes financial problems for many families. There are usually huge medical expenses as well as long recovery times.
These financial hardships add more stress on a family. But an experienced Dallas personal injury lawyer like those at Crowe Arnold & Majors, LLP can ease some of this burden by winning a settlement for you or your family that will financially take care of the family.
Contact a Dallas Airplane Accident Attorney at Crowe Arnold & Majors, LLP
Crowe Arnold & Majors, LLP has personal injury lawyers who practice law in the Dallas-Fort Worth area that are familiar with aviation accidents and offer the best chance of helping you through the lawsuit process.
If you or a family member has been in a plane crash, contact Crowe Arnold & Majors, LLP at (214) 231-0555 for a free consultation.
Additional Information